The Daily Ukulele Songbook:
Baritone Edition
Compiled and arranged by Liz and Jim Beloff. All 365 songs are arranged for baritone ukuleles in G tuning (DGBE) and feature melody, lyrics and baritone uke chord grids, perfect for sing-alongs and jam sessions. The songs and the keys are the same as the original Daily Ukulele, but with baritone chord fingerings at the top of each arrangement. Also features a tips and techniques section specially written for bari players.
Big 9" x 12" format
Spiral-bound for easy strumming
Tips & techniques section
Chord chart
Vintage ukulele photos
Available at FleaMarketMusic.com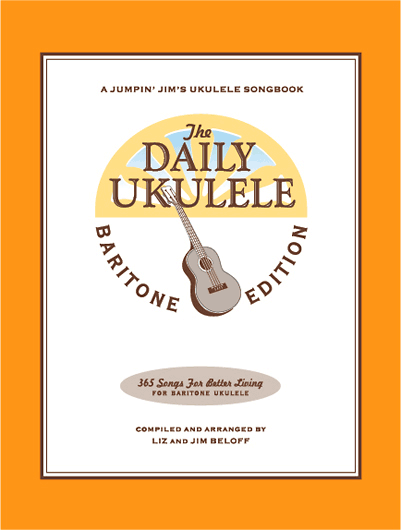 Rave Reviews for The Daily Ukulele: Baritone Edition
BARITONEALISTIC!
I loved this book (The Daily Ukulele) for standard tuning and this baritone edition (DGBE tuning) is just as fantastic!
HOURS OF FUN!
Great book of tunes. I especially like the chord chart above each song making it easier to review any new chords before playing. The variation of the same basic chords helps to improve muscle memory for a beginner like me. Just great fun to sit and play for hours.
ALL YOU NEED IN ONE BOOK
It's very convenient that everyone in the uke band that I play with has this same fine selection of songs. Author's photos are a nice touch and the song selection is varied and chord illustrated, all arranged for best sound on the ukulele. In my area just about any place you go to play the uke you'll find others using this book.
A MUST HAVE
I love this! Lots of fun and shows chords for the beginner on each song. Also shows singing start note. Love it!
GREAT FAKE BOOK
I bought this book after having a chance to borrow it from a friend. Interesting thing is she plays 4-string banjo which has the same tuning as the baritone ukulele, and I play guitar, the 4 upper strings of which shares tuning with baritone ukulele. This fake book has lots of good old and newer songs, the best fake book I've seen in a good while. It was exactly what I expected, including the comb binding, which allows the pages to lie flat. I'm very pleased with this purchase.
GREAT COLLECTION OF SONGS
I also have the regular ukulele edition. It's good to have both the baritone and the soprano versions for me since I have both types of ukuleles.
THANKS!
I've been hoping you would put out a bari version of your great songbook, because transposing on the fly from my regular edition was making my head hurt!