The Daily Ukulele Songbook: Leap Year Edition For Baritone
Compiled and arranged by Liz and Jim Beloff. Now baritone ukulele players can enjoy the Daily Ukulele: Leap Year Edition songbook. This super collection features all the same songs from the Leap Year Edition in the original keys but with baritone ukulele chord grids (DGBE tuning). Have fun strumming 366 well-known songs from the 1950s through today.
Big 9" x 12" format
Spiral-bound so it lies flat
Tips & techniques section
Chord chart
Available at FleaMarketMusic.com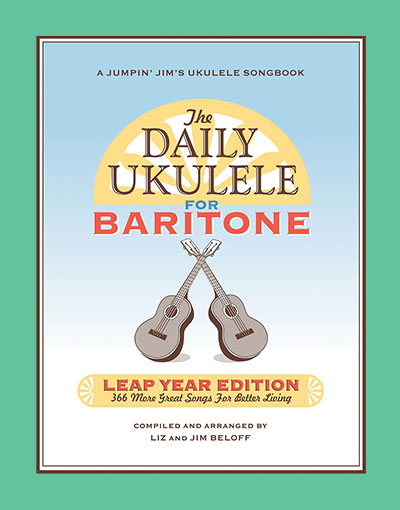 Rave Reviews for The Daily Ukulele: Leap Year Edition for Baritone
What a find. What fun to sing the songs in this series. The songs are identical to the original book. They are in the same keys with the same chords. EXCEPT, the chord chart at the top of each song is for Baritone tuning and fingering. Easy to play both books at the same time in the same room.

I've had a baritone ukulele for about a year and finally purchased this book. As I'm still learning the chords and switching back and forth between standard uke and now also guitar, it makes it so much more pleasant to play along with my group with just a glance at the top of the page for a quick refresher on the chords.

Lots of great songs. A nice "everyday practice" book. If you're a baritone uke fan, you won't be sorry if you purchase this book.

My second baritone ukulele book...love it!

The ultimate baritone ukulele song book.