The Daily Ukulele To Go!
365 Songs For Better Living
Compiled and arranged by Liz and Jim Beloff. The Daily Ukulele: To Go songbook features 365 well-known songs with easy ukulele arrangements in one 5 1/2" x 8 1/2" compact songbook. This streamlined edition features the same songs and arrangements from the original full-size Daily Ukulele and is perfect for those who want to travel with their favorite songbook.
Smaller portable 5 1/2" x 8 1/2" format
Spiral-bound so it lies flat
Chord chart
Available at FleaMarketMusic.com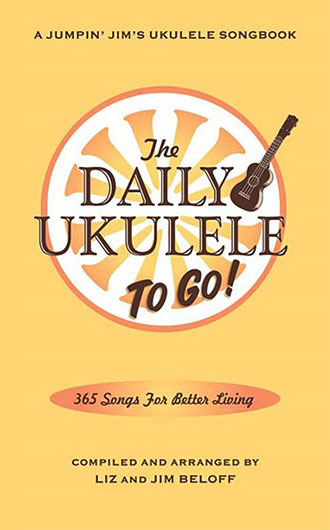 Rave Reviews for The Daily Ukulele: To Go!
I already own the original (twice as large) version - but the "To Go" volume measures 5.5 x 1 x 8.5 inches and is MUCH easier to travel with. Easy to read and fun to play from - I LOVE IT!!!!

Fabulous selections and, when I took it in to my instructor, he was impressed I had been so prepared as a new student. The book is easy to carry and the text is easy to see at a distance. I definitely recommend the book as the selections are varied and fun to learn.

Perfect for camping. Ordered another for a friend. Great selection of tunes. Most are not difficult.

Love this collection, and the convenient size! Print is not tiny, but the "to go" version is much more portable than the standard one. Great mix of genres with mostly easy chords.

I have the larger size of this music book. Love this compact version of this wonderful song book! Great travel size! Both sizes come with the spiral spine for easy page flipping.

I am a beginning Uke player and this book is perfect. It has every genre of music imaginable. It is so much fun just to go through it, turning pages and discovering more songs that jolt the memory. There is something for everyone in this wonderful collection, from beginner to experienced ukulele players. It is used by our community ukulele ensemble. It's a 5 star buy!!

Great ukulele book. Lots of good songs. Usually in good keys for easier chords. This should be the first ukulele song book you buy. I like the small version.

This is a neat book. Lots of music. I like the smaller format because it fits in the outside pocket of my uke case.

This is a useful book if you like traveling with your music and don't like to use a tablet. the size of the text is good so that you can place the book on a music stand or table.

Just like the original--but smaller! Easier to transport!

Super convenient, all-purpose collection of nice uke arrangements. Sized just right to fit in the pocket of my uke case, so it's a great travel companion! I like to turn to a random song every day and sight read it for practice. I revisit my favorites to actually learn them. This keeps me moving forward, always learning. The arrangements range from very easy to intermediate, so it's easy to pick new songs with unfamiliar chords to add to my toolbelt. And with so many songs, this is at least a couple of years worth of material, because I do skip days!

The Daily Ukulele is now available in a palm-sized edition!