The Daily Ukulele Songbook:
365 Songs For Better Living
Compiled and arranged by Liz and Jim Beloff. Strum a different song every day with easy arrangements of 365 of your favorite songs in one big songbook. All arrangements feature melody, lyrics and ukulele chord grids in uke-friendly keys, perfect for groups of one or one hundred. Includes hits by The Beatles, Beach Boys and Bob Dylan, folk songs, kids songs, pop songs, Christmas carols, Broadway and Hollywood tunes.
Big 9" x 12" format
Spiral-bound for easy strumming
Tips & techniques section
Chord chart
Vintage ukulele photos
Available at FleaMarketMusic.com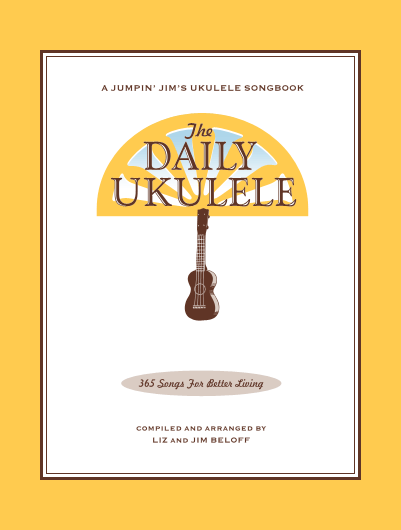 Rave Reviews for The Daily Ukulele
This book has a wide variety of music and songs to choose from. There is also a variety of easy to intermediate as far as chording. I've spent hours with my uke and this book.

This has become the de-facto standard for the Motor City Ukes meeting every month. There are also some great playing tips at the beginning.

The songs are wonderfully adapted for the beginner or intermediate player.

The spiral binding is perfect for placing the book flat on a music stand or table.

If you're new to playing ukulele then it's a must-have book.

...love the fact that the chord charts are above every song and the starting note and where to find it on the fretboard is also given. No more guesswork or looking things up in other books before diving in.

I love this book! The song selection is wide, eclectic, varied--you are guaranteed to be familiar with a very good number of these songs.

The songs are in keys easy to sing, and if a song is a little bit out of your range, there's a section in front that tells you how to transpose the song on your own.

...out of all of the ukulele books I have so far, I find that I love how this one is formatted best of all.

I have checked out other ukulele books that were full of songs that I was not familiar with, but this book is full of all kinds of popular and familiar tunes that I am really excited to play. I love this book and would highly recommend it.

Contains lots of good songs for the uke. Also shows chord fingering for chords used in songs above each song. Helps in learning new chords.

This book is the best I've seen.

This is a great book for the ukulele beginner's library or the more advanced player just having fun.

I have joyfully been turning the pages of this book for over 3 weeks now and I still find so many new songs that I hadn't seen before. I wish this great team would produce several more books each containing 365 songs. Thank you Jim and Liz!

I love the song selections and the arrangements, which vary in difficulty.

...this book makes it easy to learn new chords, and I am enjoying it very much.

I am a beginner and already playing awesome songs and a wonderful variety of music from this book. Better than downloading a bunch of stuff that did not work for me.

This book has many songs that I love. The songs are all on one page so there is no flipping pages. This is a must-have songbook.

Am absolutely delighted with the song selection. This will be a great tool.

This is one of the best ukulele books I have ever seen! It is so refreshing to have a collection as large as this in one fakebook that is truly easy to use. I cannot praise this one enough.

This book is loaded with all kinds of songs that you can just sit down and play, with some more challenging than others. It is an excellent way to relax, try new things, and just enjoy some good music. Highly recommended.

This is a great book. I bought two because when friends were sitting around making music together we could not huddle around one book. Now there is one for each side of the room. Love this book.