The Daily Ukulele Songbook:
Leap Year Edition
Compiled and arranged by Liz and Jim Beloff. This songbook features 366 more well-known songs arranged for ukulele. All arrangements feature melody, lyrics and ukulele chord grids in uke-friendly keys, perfect for groups of one or one hundred. Includes popular songs from the '50s, '60s, '70s, '80s, right up to today. You'll find hits by Carole King, Elton John, Bee Gees, Stevie Wonder, The Beatles, Paul Simon, Bob Dylan and Michael Jackson'plus Motown classics, folk songs, Broadway showstoppers and great Hollywood movie themes.
Big 9' x 12' format
Spiral-bound so it lies flat
Ukulele 101 section / Chord chart
Vintage ukulele photos
Available at FleaMarketMusic.com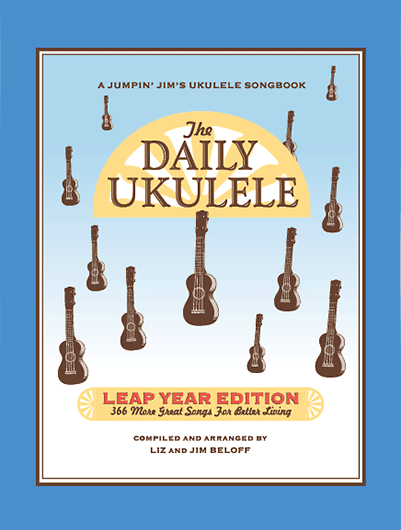 Rave Reviews for The Daily Ukulele: Leap Year Edition
Another great collection of songs! There are some very easy songs with only 2-3 simple chords, while there's also some intermediate songs that offer a good challenge for beginners. All have a list of the song's chords in tab visuals at the top, then each chord name is listed above the measures as you play to indicate where you transition. I bought this after owning the original Daily Ukulele book for a year, and it's a great companion. Either book by themselves are great, but if you want more, then get both!

These books (both the original and the leap year editions) are unbelievably enjoyable with such a variety of songs of different styles and from different eras. Some songs require only two or three chords, so it's easy to get started. I started about three years ago with the books, and now I'm playing songs that require many different chords in several different keys. I'm not kidding when I say that these books have improved significantly the quality of my retirement!

The second [Daily Ukulele] songbook of the Beloff's is as much fun as the first one. You can find songs you love no matter what your level of skill with the ukulele. I'm a beginner, having played for less than a year, but on the first read through, I found at least 10-15% of entries immediately playable and fun. I've had the "Leap Year" songbook for 2 months now and have increased my repertoire to 65-70 songs. I find both the first and the second books a great way to keep me engaged in practice. I take both books with me on the road and on the water in my cruising sailboat and find them wonderful companions.

I like this fake book as well as the first one I bought. Both books have a large assortment of songs with lyrics, tablature chords and are clearly laid out. Beside the basic chords, Jim has added color chords in between to make the arrangements sound much better. I would recommend both of these books to anyone who loves to play the ukulele and all styles of music. I have played out of many song books and these are by far the most gratifying.

This book is lots of fun because I already know many of the songs and how they should sound. It is fun and a challenge to learn new chords. This is a really fun addition to the yellow rimmed "The Daily Ukulele."

Of all the uke books out there both the Daily and the Leap Year song books are so superior there is just nothing that compares. I especially like the additional chords that are used in the Leap Year edition. Just going thru those changes will increase your chord vocabulary exponentially. Did I say I like the Leap Year Edition? You bet.

We have the Daily Ukulele and love it, but the new Leap Year edition has a lot more songs from the 60s and 70s that we love to sing along with. Excellent book!

My friends and I love this one even better than the yellow one. Started looking through it, and had to grab my ukulele and play several songs!!

Great uke fakebook with wonderful songs. Chords are clearly laid out. Great collection of songs, including lyrics. This book is a wonderful companion to Jim Beloff's other "Daily Ukulele" book. Get both.

Very nice selections of music. Purchased along with The Daily Ukulele and I do not believe there is a repeated song. PLUS if you go on YouTube there are people who demonstrate some of the playing methods to the songs in these books. I will be looking into other books by this author/arranger.

I am a librarian and could not find any good uke music books in our collection, not even through Interlibrary Loans. I started building my own collection and Jumpin' Jim has some of the best. This is a great follow-up to the Daily Ukulele. My friends with guitars and ukes play right along together using the same chords. Easy to play, some hard, just the right mix.

What a great collection of standards and traditional, familiar music. I'm just getting started on the ukulele and this book will give me years of enjoyment.