The Daily Ukulele Songbook:
Leap Year Edition
Compiled and arranged by Liz and Jim Beloff. This songbook features 366 more well-known songs arranged for ukulele. All arrangements feature melody, lyrics and ukulele chord grids in uke-friendly keys, perfect for groups of one or one hundred. Includes popular songs from the '50s, '60s, '70s, '80s, right up to today. You'll find hits by Carole King, Elton John, Bee Gees, Stevie Wonder, The Beatles, Paul Simon, Bob Dylan and Michael Jackson…plus Motown classics, folk songs, Broadway showstoppers and great Hollywood movie themes.
Big 9" x 12" format
Spiral-bound so it lies flat
Ukulele 101 section / Chord chart
Vintage ukulele photos
Available at FleaMarketMusic.com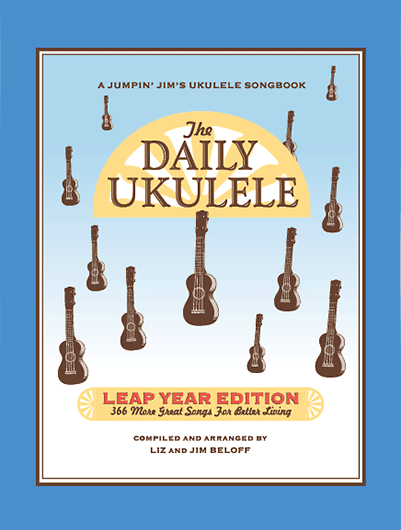 Rave Reviews for The Daily Ukulele: Leap Year Edition
I now have a ton of songs to perfect and play, covering a wide spec'strum' of styles. I can now take requests and pretty much have the music for it. Of all the uke books out there, both the Daily and the Leap Year song books are so superior there is just nothing that compares. I especially like the additional chords that are used in the Leap Year edition. Just going thru those changes will increase your chord vocabulary exponentially. Did I say I like the Leap Year Edition? You bet.

If you love your uke, this is the book to have. It's full of great songs, easily arranged, and you can start playing in minutes. I have the first book of the series, and if there is a third one, I'm on it!

We gave this as a Christmas gift to our daughter who had starting playing the ukulele in July. She had already learned all the songs in "The Ukulele 365" book and was looking to add more songs. She loved the book and started playing and singing with her grandma immediately. I would highly recommend it.

I own both daily ukulele books and love the variety of songs in them. They tend to be arranged in keys with the simplest chords possible for the song, which many uke players appreciate. There is something in here for every one of all ages and skill levels. A lot of fun surprises--songs that I would have not thought of turned out to be great adapted for the ukulele.

Totally met all my expectations. Good selection of songs and very easy to use. Would highly recommend it to anyone.

I have the first Daily Ukulele book, it is wonderful and so is this one. There are over 700 songs between the two books. I'm a beginner and I keep busy for a long time just going through the books and playing. I am familiar with and love so many of the songs. Great book well worth the money!

I have the first "Daily Ukulele" book and I love it. This one is even better. The selection of songs is wonderful.

I used to play the ukulele in high school and it's great to be reminded of all those songs in time to play with my grandkids.

This book has a fantastic selection of songs. I could not put it down, all keys seem to fit male voice perfectly.

This book is a valuable companion to the 365 days daily ukulele. Following the same style and easy presentation, but with all different songs which will increase a player's repertoire.

When the tunes of the first book seem too familiar and no longer offer any difficulties, this is the book to buy. This one is arranged in uke and voice-friendly keys and I would recommend it for the intermediate player. The author really takes care of you by showing the chords first, then their place in the tune and in the text…a very useful book.

Both the first Daily and second Leap edition present an astounding number of new songs for hungry uke players in friendly keys and the Daily really does give me daily joy.

Wonderful uke book! Lots to learn! User friendly, chord fretting is written for every piece, print is large enough to read...looking forward to the next edition!

I love the songs in this book! Between this book and the prior most of the songs you can think of are in these books. The songs utilize the most familiar and easy-to-play uke chords and includes the sheet music for other instruments to play along. Happy strumming.

Great addition to the original Daily Ukulele---love the songs. Definitely a necessity for the dedicated uke player to help build your repertoire.

Sure do love all the additional songs from Jumpin' Jim Beloff. Already have his Daily uke book. Would recommend for all ukulele strummers.

The Beloffs are probably the best single printed music source for ukers. This book is similar to the first big compilation, The Daily Ukulele. I'm hoping to see another two more years down the line! Keep up the good work, Jim and Liz!

Again, I found so many songs from my earliest memories and many from today's artists that I am eager to learn. I love the variety...soft love songs and peppy, rhythmic tunes. I love them all.

This ukulele book was my professor in learning the instrument.

A good variety of songs to inspire you to practice - very entertaining playing with a group, it really gets us going.

This is a well thought out selection of old and new, for beginners to more advanced players. I was so happy to see this [edition] since I had worn out the first book and was ready to move on.