The Daily Ukulele Songbook:
Leap Year Edition
Compiled and arranged by Liz and Jim Beloff. This songbook features 366 more well-known songs arranged for ukulele. All arrangements feature melody, lyrics and ukulele chord grids in uke-friendly keys, perfect for groups of one or one hundred. Includes popular songs from the '50s, '60s, '70s, '80s, right up to today. You'll find hits by Carole King, Elton John, Bee Gees, Stevie Wonder, The Beatles, Paul Simon, Bob Dylan and Michael Jackson…plus Motown classics, folk songs, Broadway showstoppers and great Hollywood movie themes.
Big 9" x 12" format
Spiral-bound so it lies flat
Ukulele 101 section / Chord chart
Vintage ukulele photos
Available at FleaMarketMusic.com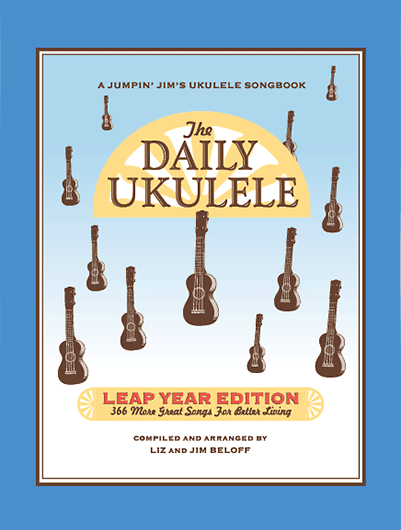 Compiled and Arranged by Liz and Jim Beloff
Finding a ukulele at the Pasadena Rose Bowl Flea Market in 1992 inspired Jim & Liz Beloff to start Flea Market Music, Inc., publisher of the popular Jumpin' Jim's series of ukulele songbooks. This series is sold worldwide and distributed by the Hal Leonard Corporation. Some of the bestselling titles in the series include Jumpin' Jim's Ukulele Tips 'N'Tunes, Jumpin' Jim's '60s Uke-In and Jumpin' Jim's Ukulele Country, as well as collections of blues, bluegrass, classical music and jazz standards arranged for ukulele by some of the finest players in the world. Jim and Liz truly believe in their company's motto, "Uke Can Change the World." You can reach them through the Flea Market Music website at www.fleamarketmusic.com.